A. Houlihan Locksmiths Dublin, offer a wide variety of key services to our customers. From basic key duplication to complex master-keyed systems, we ready to assist you. Contact AHL Locksmiths Dublin today for more information

Restricted Systems.
Increase key control with a restricted key system. Extra keys can only be cut on production of a security key card, ideal for landlords, shops etc, where key control is a priority.
Locks Keyed Alike.
Have all your locks working under one key. No more sorting through large bunches of keys, trying to find the right one for your lock. Front and Back Doors – Bike Sheds – Garages etc
Key Cutting Service

We can cut additional keys for all locks we install. Great discounts on large quantities. Handmade keys for cabinet and antique locks.
Key Safes
Wall mounted keysafes designed to allow you to securely store a number of keys outside a building. Often used by home care nurses for entry to homes when caring for the elderly.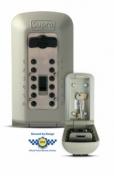 Accessories
Keyrings, coloured caps and tags available.