Yale Night latch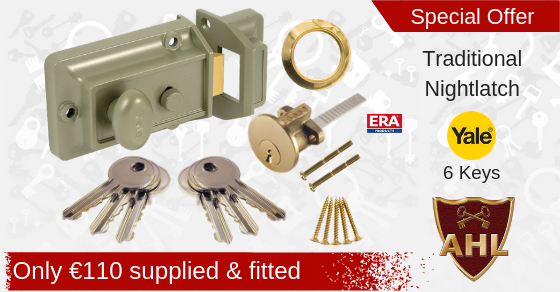 Traditional Night Latch Special Offer!
Traditional Yale Night latch for timber or composite doors. The Yale night latch lock can be held open by using the snib button on the internal side of the door, to prevent being accidentally locked out & can also be used to lock the latch mechanism at night. The yale night latch is opened from the outside via a key and by a knob on the inside.

Yale

brand traditional night latch lock case
Era brand rim cylinder – available in brass or satin silver
Comes with 3 Keys + 3 extra keys Free!
Snib button to hold back or lock latch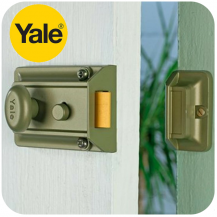 Also Available!
Mounting blocks for rebate timber doors
Some timber doors come with a Multi point lock which needs to be locked every time you enter or leave. By having a nigh latch installed on your door, once you to close the door you need a key to gain access from outside, or turn a knob from inside to exit. This type of lock is useful for preventing small children from escaping, as the lock is positioned high on the door out of reach.
Timber doors made by Munster joinery or Carroll joinery, have a rebate on the door & frame which hinders the installation of the night latch keep which is mounted to the frame. To combat this, we have custom made metal mounting blocks available which allow for the correct installation.

Custom metal packers Suitable for Carroll joinery or Munster joinery doors + €20