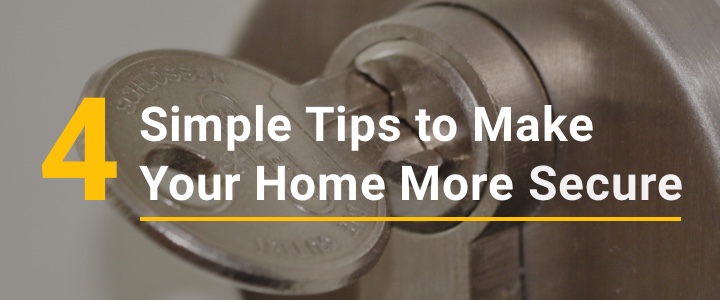 Home Security – 4 Simple Tips to Make Your Home More Secure
Having peace of mind knowing that your home is safe and secure from break-ins and intruders is priceless. Unfortunately, many home owners are unaware that their home is not as secure as it needs to be, to keep burglars away. To keep your family and your home safe, here are 4 things you can do to secure your home:
Have More Than One Door Lock
One of the biggest mistakes many homeowners make is to only have a single lock on their exterior doors. If you have a standard wooden door like many Dublin homes, having at least one additional lock is essential. Having a professional locksmith install an insurance rated deadlock will help prevent break-ins and meet the requirements of your insurance provider.
Consider Upgrading Your Cylinder Locks
The standard lock that comes with your door is very unsafe, especially if it is the only lock that stands between an intruder and your home. Many burglars use techniques such as lock snapping or cylinder pulling to quickly break into homes with a standard cylinder lock. To prevent this, upgrading your cylinder lock to a 3-star high security cylinder with anti-snap, anti-bump, anti-pick & anti-drill features, will prevent many of the popular break-in techniques being used.
Install Window locks or sash Jammers
It isn't just your doors that you have to worry about when upgrading your home's security. Windows are also a popular point of entry for break-ins, so making sure you have quality window locks installed will prevent easy access for criminals. There are many different types of windows, with each one requiring a specific type of security lock to suit it. Whether you have a timber or uPvc window, sliding or casement, additional security window locks or sash jammers are available to suit most window types. Contact your local locksmith for the best advice on the right type of security lock for your windows.
Use the locks you have and consider upgrading
If your door has a multipoint locking system installed, then using the full function of the door lock is vital. Most popular multipoint door locks have a nightlatch function, this is a small wedged shaped piece of metal the protrudes from the side of the door. When you pull the handle down from the inside, the wedge-shaped latch will withdraw into the door lock allowing the door to open. From the outside pulling the handle down won't draw the latch back, and you will need a key to do this.
Many customers believe that just closing the door over, and using this nightlatch function is adequate enough to prevent a burglar from gaining access easily. Unfortunately, if you only use the night latch function, it is extremely easy to gain access, in some cases it only takes seconds to gain entry!
To fully utilize the functions of your multipoint locks, it is important to first lift the handle up, then lock the door with your key. This will secure all available locking points on your door, and also blocks the handles from going down. Any opportunistic burglar who approaches your door will know that your door is fully locked if handles don't go down.
Most timber doors have locks that utilize a nightlatch function too, the most popular type of lock used is commonly referred to as a standard "Yale" nightlatch. Again, you use a lever or knob to exit from inside, and a key to enter. These locks offer basic security, and if this is all you have on your door then you should consider having an additional 5 lever British standard mortice deadlock installed, or upgrade your existing nightlatch to a British Standard high security lock. For ultimate security and peace of mind, having both types of high security locks installed, will greatly increase your doors security.
Need Help Securing Your Home? Get In Touch Today
If you need your home security upgraded, working with a professional locksmith and security expert is highly recommended. With over 18 years of experience providing home security all over Dublin, A Houlihan Locksmiths have the tools and expertise to assess your home's security, and can advise you on the options available to safeguard your home. We offer a 7-day locksmith service in Dublin, and quotations are free, so contact us anytime through our website or by phone at 01-8313877.