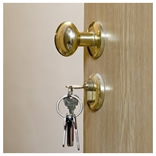 Door locks are the first line of defence when securing your home and business. Unfortunately most doors come with only basic locks installed, typically a standard night latch, this type of lock is most commonly referred to as a "Yale Lock", and can easily be bypassed by burglars.
This can be remedied in most cases by upgrading your existing lock, or having an additional mortice deadlock installed. It is highly typical after a burglary for homeowners to upgrade their security. Aside from the loss or damage to material items, there is also the emotional aspect that can last much longer than it takes to get the insurance company to pay up.
AHL Locksmiths Dublin offer a variety of locking solutions for timber doors. We can replace your existing door locks, upgrade/install additional high security door locks. From budget locks to high security insurance rated locks, our lock installers are ready to assist you.
Nightlatch Locks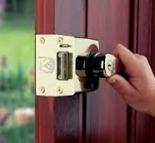 Nightlatch locks are most commonly used on entrance doors to houses & apartments. This type of lock is mounted onto the surface of a door, the door is then held tight to the door frame by a spring latch which clips into a steel box mounted to the door frame. The night latch can then be opened from the inside by turning a knob, or from the outside by using a key.
From standard night latch locks designed to replace your existing door lock, to British Standard high security Night latch locks designed to meet tough criteria laid down by insurance companies & the police, A.Houlihan locksmiths are sure to have the right solution for you.
AHL Highly recommends upgrading your existing night latch lock to an Era high security nightlatch which features an internal lockable handle, offering added security against forced entry. With an integral cylinder pull which protects the cylinder from being drilled, this nightlatch automatically deadlocks, making the use of a credit card to force the lock virtually impossible.  This high security lock also offers a 20mm bolt throw for greater security strength.
Mortice Locks
Cylinder locks are an extra component used on some mortice locks & night latches. The benefits of having a lock cylinder is that if a key is lost or stolen, you only need to replace the lock cylinder rather than the complete lock, keeping your costs to a minimum. Lock cylinders can also be keyed-alike and master-keyed, which means you can have one key that can open some or all of your cylinder locks.
Door lock accessories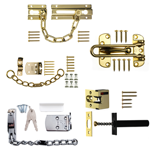 Door chains, door viewers, door bolts, hinge bolts & vent locks are all excellent ways to upgrade your existing security. A.Houlihan Locksmiths Raheny, can supply & fit most door accessories in a variety of colours to blend with your door finish.